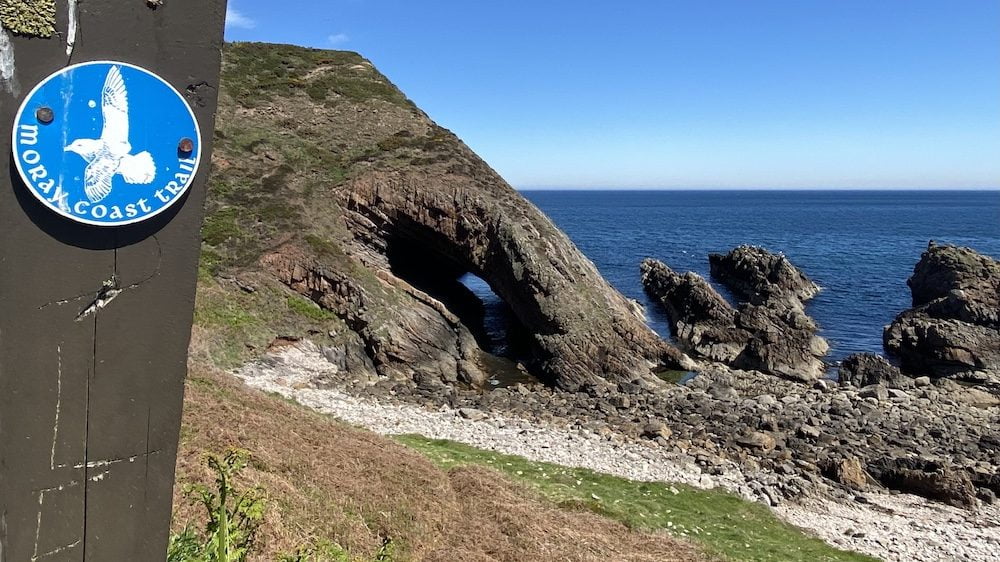 This walk is an inspiring and varied coastal walk. Few things can be more enjoyable than a good coastal walk, with crashing waves on rugged rocks, long swathes of golden sand and picturesque little harbours, sea birds and the possibility of seeing dolphins being the main ingredients for an enjoyable day out.
Fishing has been carried out at Cullen for at least five hundred years, and the picturesque huddle of the Seatown with its colourful painted cottages and twisting lanes dates in part from the 17th century.
The arches of the viaducts frame some of the best views of the town and its surroundings; the Seatown, the Cullen burn, the 19th-century temple of Pomona – a garden teahouse in the shape of a classical temple and, most magnificent of all, Cullen bay with the three distinctive sea stacks known as the 'Three Kings'.
After skirting the marvellous sweep of Cullen Bay, the route passes Jenny's Well, named after a poor woman in times past who lived in a cave nearby, and there are great views of the Whale's Mouth rock formation. After climbing the concrete steps to the Portknockie headland, we come upon the focal point on the route – the hugely impressive and photogenic Bow Fiddle Rock – a natural sea arch, so-called because it resembles the tip of a fiddle bow. Portknockie has an ancient history; including being the site of a Pictish fort, but its modern development is associated with the herring boom of the 1800s. After making our way through Portknockie we return to Cullen via the disused railway line and viaduct, with tremendous coastal views over the golf course. Our return route to Cullen also takes us beside the burn of Cullen and across the west bridge, taking us past Cullen House and grounds.